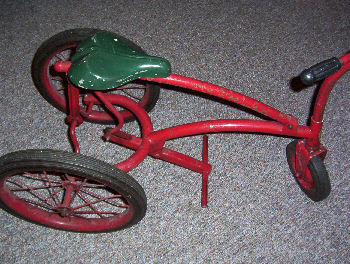 We will never forget our Jockey-Cycle, which we sold some years ago, so we thought it would be fun to get out the old photos and share our memories of it.
Made sometime during the 1930's or 1940's, this is a very rare collectible sought after by bicycle and other vintage toy collectors. This velocipede was made by the J. E. DONALSON MFG. CO. in NORTH KANSAS CITY, MO. Some people incorrectly call the company "Donaldson", so you will find mention of it spelled both ways.
Instead of the usual pedaling action, the rider pushes on the foot bars and pushes and pulls on the handles. The seat then pumps up and down and the vehicle moves forward or backward. The small front wheel gives this jockey cycle a very tight turning radius, while the large back wheels and wide stance make it surprisingly hard to turn over.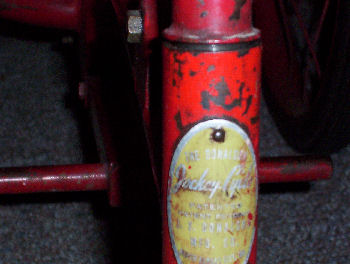 The original nameplate on ours was still easily readable, but I was not able to get a very good picture of it up close, due to the glare on the metal. I'm not sure if it had been re-painted some time in the past or not. There were some light red brush marks on the nameplate. That is the only clue that it had possibly been repainted.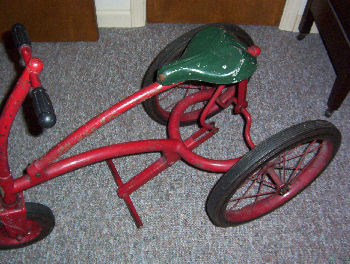 All the spokes were in good condition, the tires were in excellent shape, and the mechanism worked perfectly. There were many small areas where the paint was missing, but none of the areas detracted from the overall appearance, in my opinion. There was no evidence of rust.
This toy was played with by at least 3, maybe 4, generations of our family. It was a hand me down from my husband's cousin's family, so hubby and his brother both played on it. Then our two children enjoyed it for many years when they would spend time with their Mamaw and Papaw. Eventually the girls got too big to be interested in it, and his parents needed to get rid of it, so they could make more space for the growing girls to spend the night. So we brought it home with us. We put it in the basement, where it stayed until our grandson was old enough to ride it.
Our grandson would beg to ride it every time he came to visit, and it was great fun watching him get so much pleasure from it.
It was sometime not long after he had grown tired of it that we got bitten by the eBay bug, and I decided to see what the Jockey-Cycle might be worth, if anything. To say the least, we were both flabbergasted to find out that it was extremely rare and very valuable! So by the time our twin granddaughters were old enough to enjoy it, sad to say, they didn't get a chance to ride it. Once we found out how valuable it was we just couldn't take the chance they would tear it up!
So we sold it on eBay. Rather than chance it being damaged in shipment, the buyers drove several states to pick it up themselves. They were happy to get it, and we were happy to have sold it for a very good price.
On a whim the other night hubby decided to see if people were still collecting them and found a forum where folks were talking about some pitifully worn and damaged ones. It really made us realize just how wonderful ours had been. We also found a site with pictures of all but ruined ones, which is evidently the condition many are found in today.
So, we wanted to share our photos and story, so people could see what an original one looks like.